Find the Right Fit for You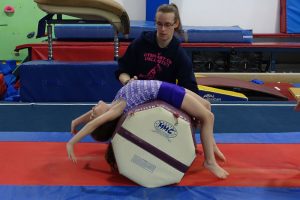 Our recreational and tumbling classes are segmented by age and skill level. There's a perfect fit for every gymnast, from 2 to 17.
NinjaZone combines elements of gymnastics, parkour, martial arts, and obstacle course training into one awesome sport.
Take your training to the next level with our competitive program! We offer USAG, JOGA, and Xcel teams for gymnasts and acrobats.
We are so proud to share that ten of our gymnasts have earned state champion titles, bringing home a total of 17 titles across all events!
Our competitive teams recently receive their awards from two virtual meets, the PPG  Invitational and the National Gymnastics Challenge. Congratulations to all of our competitors, we are so proud of you! 
Save the date for June 11th.  Part meet, part show, ASM is a chance for recreational and pre-team students to put on a big, themed performance for their family and friends.
Do you miss shopping for your favorite leotards in our lobby? We do, too! that's why we've moved our pro shop online. Stock up on all of your gymnastics essentials, including leotards, shorts, face masks, grips bags, and activewear.
Not sure if gymnastics is the right fit? Read our top reasons to consider gymnastics for your child.
We're a safe, fun place to learn, and our mission is to help children become healthy, productive adults.
Learn that's changed in the gym and what we're doing to keep you and your family safe. 
Hear What They Have to Say About Us
"The structured but friendly environment that GU provides is exactly where I would want my daughter to be. Her coaches are strong role models who genuinely care about the gymnasts. The friendships she has made at GU will no doubt continue for years to come. As the parent of young girl, I am so happy we found GU and all it offers her, and the best part is knowing she feels the same way!"
"What makes this gym dynamic and different from the rest is the owners, staff, and coaches! It has a family-oriented feel. Our daughter loves every minute of her experiences and looks up to her coaches as positive supporters, motivators and teachers. They push her to take challenges, risks, and make her feel great about her accomplishments."
"Very caring staff! My daughter had a hard time with drop-off, and the staff took the time to ease her into it. Now, she just waves and runs in!"