Gymnastics Classes
Registration is OPEN for Summer 2021!
Fall registration begins August 16
Gymnastics Unlimited offers classes for 3 years old through high school. Find the right starting place for your child here.
Bonus: Summer students get priority enrollment for fall classes, so reserve your spot today!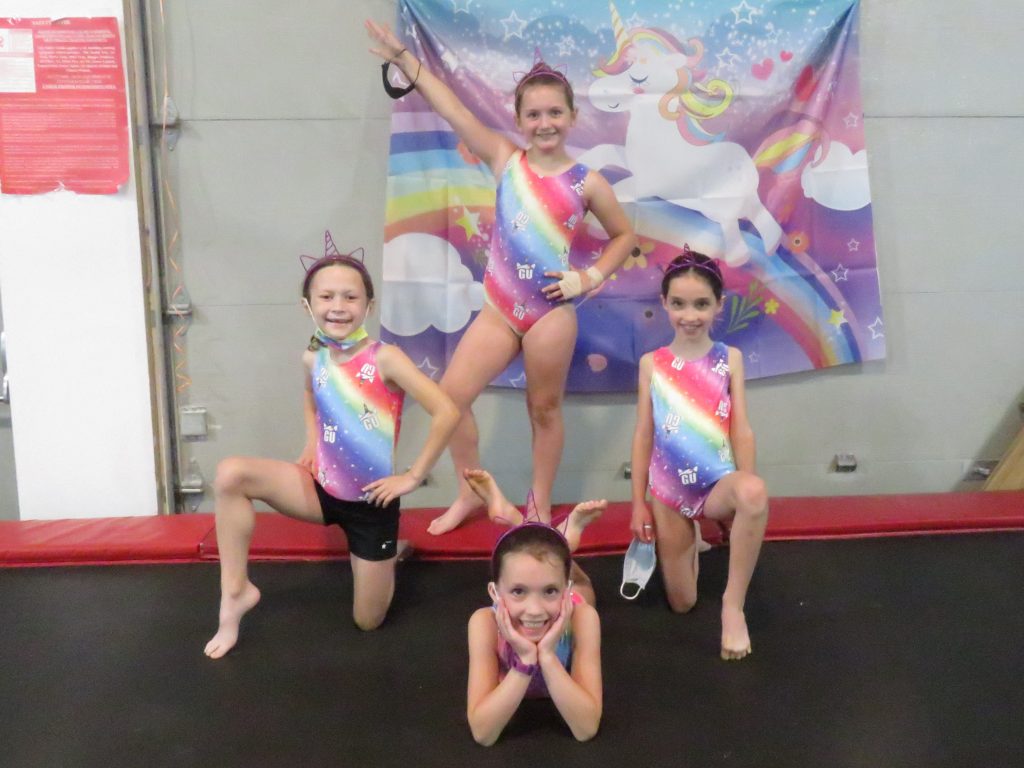 Recreational Gymnastics
Recreational Gymnastics classes are segmented by age and skill level. We offer regular gymnastics (any of the "stars" classes), cheer and tumbling, and advanced training. Our classes are limited to seven (7) students per class to ensure plenty of individual attention. Face masks are recommended. Please note that due to our smaller class sizes and limitations, make-ups are not guaranteed if you have to miss class.
Parent & Child (ages 1-3)
Little Stars (Ages 3-4)
Our instructors are excited to give your child a fun gymnastics experience while teaching them on equipment that is built specifically for their size and needs. Our lesson plans develop strength, flexibility, and coordination by introducing basic gymnastics positions and skills.
Kinder Stars (4½ – 6)
The independent class provides on introduction to gymnastics, basic exercise, and body awareness. Locomotor skills and kindergarten readiness are given strong attention at this level.
Future Stars (ages 5½ – 7)
Future Stars learn gymnastics in a fun, safe, and positive environment. Students are evaluated throughout the year to track their progress. Must be at least enrolled in kindergarten to join this class.
Gym Stars (ages 5½-7 by recommendation only)
Gym Stars is a recommendation-only class for gymnasts who show great skill and are ready for more of a challenge. This class meets twice per week; it's more structured than regular recreational classes and may lead gymnasts into team programs if they desire it.
Rising Stars (ages 8-13)
The Rising Stars curriculum covers three levels, from beginning to intermediate to advanced. Students develop at their own pace through the levels. A strong emphasis is placed on ensuring students continue to develop and maintain excellent form and technique as they master more advanced skills on all events.
---
Tumbling
Our program helps improve strength, endurance, coordination, and flexibility while having fun! These classes use the floor, tumble-trak, trampoline, and foam pit, and the learned skills can be used for cheer, acrobatics, and more.
Intermediate/Advanced Tumbling (ages 6+)
For students with prior tumbling experience. In this class, students will advance their skills and work on the next level based on their abilities, including back handsprings, tucks, twists, and more.
---
NinjaZone
Ninja Zone combines elements of gymnastics, parkour, martial arts, and obstacle course training. It's awesome for kids with lots of energy and the desire to learn cool stunts like flips, rolls, and kicks. Boys especially love this class, but we offer it for girls, too!
Lil' Ninja (ages 2½-5)
Get an introduction to NinjaZone in a safe, fun environment! We offer a Parent & Child class for younger kids, as well as independent classes for older preschoolers.
NinjaZone (ages 6-13)
Ninjas learn a combination of flips, rolls, jumps, and kicks. Strength and agility are tested through obstacle courses and various training techniques. A progressive level system evaluates and advances children on their skill and knowledge of core values as described in the Ninja Zone creed.
---
Private Lessons
Private lessons are a great way to fine-tune specific skills or get extra practice in gymnastics, tumbling, or cheer.
New this year: Private lesson slots can also be booked for semi-private or pod classes (up to 5 students). Lessons are $50 for the first child and $25 for each additional child. Please note in the "comments" section if you are enrolling for a private, semi-private, or pod class.
There are no refunds, credits, or exchanges for these lessons, so choose carefully. Must be up to date on annual registration fee of $35.
YouTube
0
tg-site-layout--customizer
0
0
1
0