Gymnastics Unlimited offers classes for ages 6 months to 17 years. Find the right starting place for your child here.
Sweet Peas Educational Gymnastics is our new preschool program, offering age-appropriate gymnastics activities starting at six months old that foster coordination, balance, core strength, bilateral awareness, and flexibility. Taught in a social, collaborative environment, these classes provide important life lessons in self-awareness, courage, success, and friendship.
Wee Peas (6-12 months)
Carefully designed for babies learning to sit and crawl, Wee Peas provides our littlest scooters with active learning activities that focus on whole baby development. Wee Peas are given opportunities to move, reach, and grasp in a baby safe environment that is rich with color, sound and tactile experiences. Wee Peas learn to recognize their name in class and react to in identifying themselves to the teacher. Wee Peas enjoy activities that promote visual tracking, core strength and balance needed for sitting and standing.
One Peas (1 Year Old)
One Peas are ready to move! The One Pea curriculum is designed to provide enriching activities in a safe and fun environment. One Peas learn self-awareness and physical adaptation through developmentally appropriate gymnastics activities such as stepping, rolling, balancing, sliding and swinging. One Peas learn baby rhythm and sequencing through physical activities coordinated with music and prompts. One Peas learn to clap, step, count, stop and start, and repeat. Creatures of repetition, they are beginning to remember what they have learned and they are excited to participate.

Two Peas (2 Years Old)
The Two Pea curriculum offers opportunities for provides large motor skill and gross motor skill development with whole body activities in developmentally appropriate circuits. Two Peas learn to run with developing synchronization; step, hold and balance on alternate feet; roll forward, sideways and backwards on a wedge with a spot; and transfer weight from feet to hands and back. Two Peas play (or observe play); interactively structured games with other Two Pea classmates. They sing and perform physical motions to familiar songs. Our Two Pea goal is to provide fun, quality gymnastics activities that foster the important neural development of our amazing two-year-olds.


Three Peas (3 Years Old)
Three-year-olds are ready to go! Three Peas are gaining increased motor development, eye hand coordination and fine motor skills. The Three Pea curriculum is designed to provide skill development on floor, beam, bars and vault. Three Peas work on forward rolls, straddle rolls and cartwheels. They increase their balance with beam work that includes alternating forward kicks, squat holds, relevé walks and beam crawls. Three Peas develop core strength by learning to draw to a tuck from a straight hang on the bars and execute forward rolls over the bar. Their vault skills include punching the board with both feet, a squat on to a block and donkey kicks.


Four Peas (4 Years Old)
A four-year-old's increasing coordination makes them faster and more deliberate. Their increasing strength makes them able to perform many new gymnastics skills. Their cognitive development is growing by leaps and bounds, and they are able to interpret and remember learning objectives. Four Peas work on forward rolls, straddle rolls, and backward rolls on both a wedge and on the floor. They are practicing straighter legs and longer holds in the execution of their skills. Four Peas are working on their balance with skills on beam such as straight jumps, alternating kick possé sequences and arabeques. Four Peas are gaining speed and accuracy on the vault. They are mastering their squat on, donkey kicks with horizontal hips and jumping on and off a block.
Five Peas (5 Years Old)
Five Peas are ready to test their skills! The Five Pea curriculum includes cartwheels, bridges, handstands, L- handstands and stronger executions of rolls. Five Peas can hold their relevés and arabesques on beam and are developing the core strength needed to hold tucks, straddles and pikes on the bars. Five Peas are mastering the vault runway with sequenced runs. They are punching the board with two feet and their vaults now include stretch jumps, squats onto the block and forward rolls.  The Five Pea curriculum continues to focus on helping the five-year old develop friendships, demonstrate good manners, share experiences and listen to others. Every minute in the Five Pea classroom is balanced with important physical activity, social interaction and life learning!

---
Recreational Gymnastics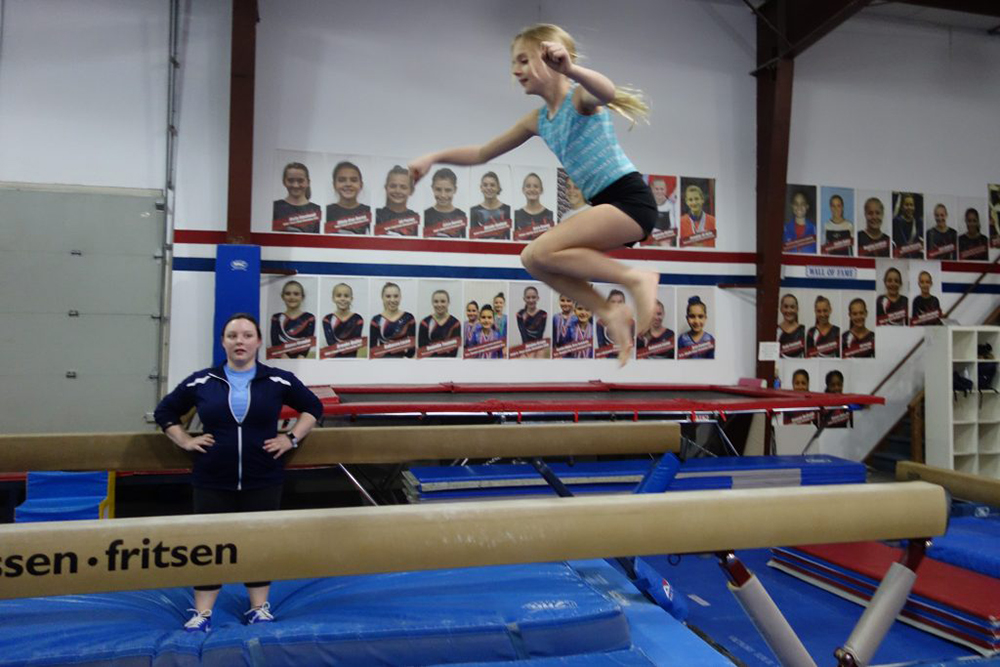 Recreational Gymnastics classes are segmented by age and skill level. We offer regular gymnastics (any of the "stars" classes), cheer and tumbling, and advanced training.
Future Stars (ages 6-7)
Future Stars continue to learn gymnastics in a fun, safe, and positive environment. Skills taught include cartwheels and rolls, handstands, and lead up drills for back handsprings. On the beam, students work on cartwheels and round-off dismounts. We'll introduce handstand flat back vaults and back hip circles on bars. Students are evaluated throughout the year to track their progress and earn a trophy when they advance to the next level.
Rising Stars (ages 6-13)
The Rising Stars curriculum covers three levels, from beginning to intermediate to advanced. Students develop at their own pace through the levels. Skills taught include cartwheels, handstands and rolls, front and back handsprings, aerials, and round-off back handsprings. On beam, we progress from round-off dismounts and cartwheels to handstands, turns, leaps, back walkovers, and advanced dismounts. Students will continue to strengthen fundamental bar progressions to help in the process of learning more advanced skills, such as kips, clear-hip circles, and flyaways. On vault, students progress from handstand flat backs to front handsprings and more. A strong emphasis is placed on ensuring students continue to develop and maintain excellent form and technique as they master more advanced skills on all events.
Gym Stars (ages 5-8 by recommendation)
This recommendation-only class meets twice a week and is for gymnasts who show great skill or require more challenge. This class is more structured than regular recreational classes and may lead gymnasts into team programs if they desire it.


Tricks with Coach Chris (ages 7-14)
This special class is student-driven — it's for intermediate/advanced gymnasts who wish to focus on select skills and events. Along with their coach, the gymnasts are able to choose what they'd like to learn and practice each week. This class is ideal for motivated, independent gymnasts who are working toward mastering specific skills, whether for gymnastics, cheer, or dance.


Advanced Tricks with Coach Chris (ages 13-17)
This class is for teens looking to practice gymnastics with their peers. Students work on all events and build upon the skills learned in previous levels.

High School Gymnastics (ages 15+)
Sharpen your skills with Coach Chris before the school season begins! This class is for advanced gymnasts with a focus on routine work and more advanced skills. Students will practice their favorite skills, complete fun challenges and improve fitness. Class meets twice a week for a total of 10 sessions. Enrollment is limited to 6 students.

---
Tumbling
Our tumbling classes are taught by former college cheerleaders. We've had hundreds of cheerleaders from area schools in Hunterdon County learn their tumbling skills from us. Our program helps improve strength, endurance, coordination, and flexibility while having fun! These classes use the floor, tumble-trak, trampoline, and foam pit, and the learned skills can be used for cheer, acrobatics, and more.
Beginning Tumbling (ages 5-8)
In this class, we'll work on the basic skills needed for cheer and dance, including cartwheels, back bends, kickovers, forward and backward rolls, and beginning back handspring drills.


Junior Tumbling (ages 7-10)
This class builds upon the skills in beginning tumbling and advances to front and back handspring and tucks, aerials, and walkovers.


Jr. Red Devils Tumbling
This class is for Jr. Red Devil Cheerleaders working on beginner tumbling skills. They will use the floor, trampoline, Tumble Trak and pit to work on skills needed for cheer.


---
Private Lessons
Private lessons are a great way to fine-tune specific skills or get extra practice in gymnastics, tumbling, or cheer.
Lessons are $50 per half-hour lesson and can be booked four at a time for more significant savings of $185. There are no refunds, credits, or exchanges for these lessons, so choose carefully. Must be up to date on annual registration fee of $35. We do not offer semi-private lessons.
Email jeanne@gu-nj.com to schedule or ask questions about private lessons.